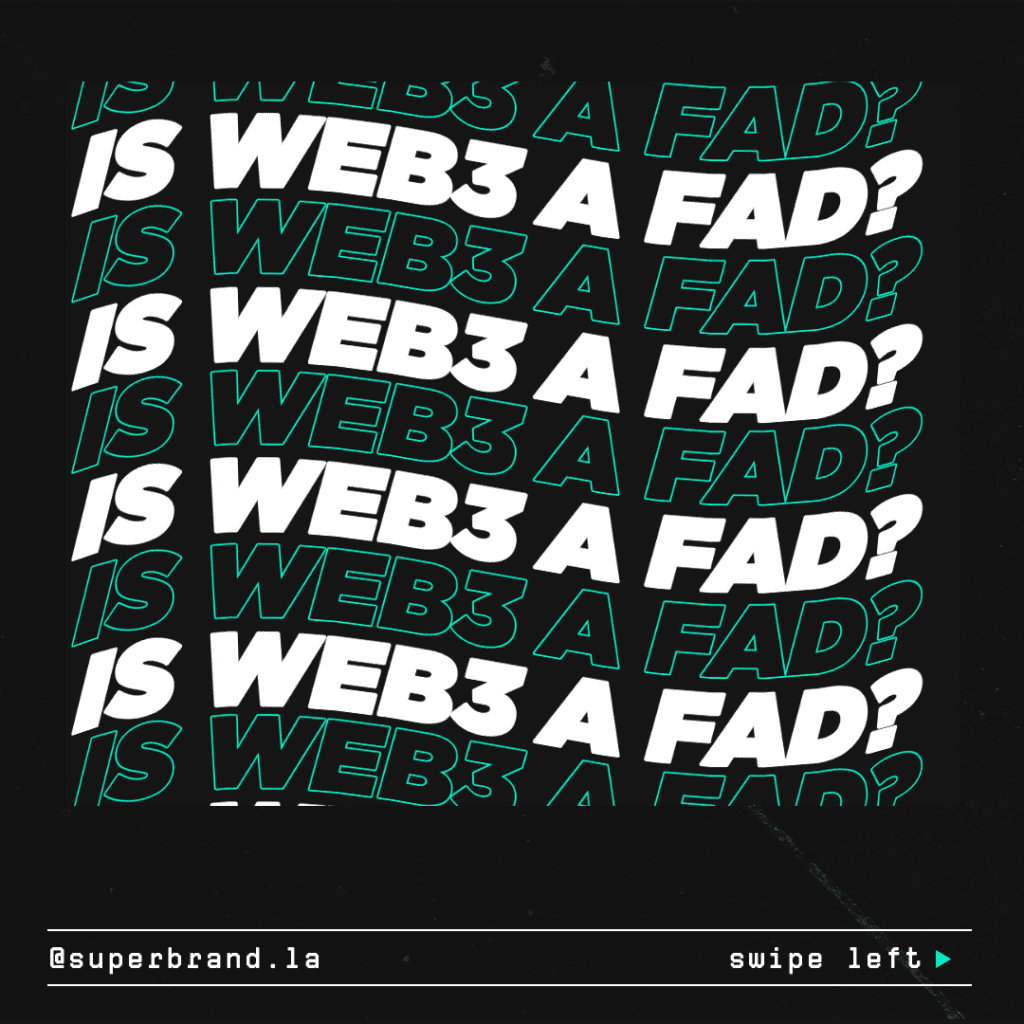 Hey, SuperBranders!
It's no secret that we've been working with lots of Metaverse, Gaming and Web3 companies to help them build their brands and presence online.
We absolutely LOVE the space. It's creative, exciting, volatile, new and rife with amazing opportunities.
But with all the volatility in the market – we hear a ton of people dismissing the space as BS, or just a fad.
Sure – the market is down. And from the outside that may feel like things aren't working out. If you're judging Web3 and crypto ONLY through the lens of the market, you're likely missing the bigger picture.
Because from within our Web3 community – things look very different.
Markets are down, but development of projects is still ongoing.
From DeFi, to new use cases, to gaming and community building – things are only getting stronger.
The technology is getting better. New tools are being developed daily. And the Web3 community is meeting monthly around the world at events and conferences – sharing ideas, networking, and collaborating to propel the industry forward.
Art is still proliferating, and artists are creating new works and utilizing the blockchain and the communities they've built to grow their audiences and make money.
Gaming companies are working on the tech side to build blockchain into their systems and create more in-game value for players.
Blockchains are being developed and optimized to do more while using less energy.
New use cases are being created everyday for how to utilize the tech and make life better for people overall.
The Web3 space is maturing before our eyes, and those of us hustling behind the scenes are still incredibly excited by everything that's going on.
Sure, ETH isn't flowing like water right now. But even in an economic downturn, human innovation never stops. So if you're questioning it, that's good. Because that's how all major advancements in society and technology improve.
At the end of the day, this is new tech, and in any new tech the highs are high and the lows are low. As the industry matures, inevitably things will become more stabilized…and get better.
So this email is really about two things…
If you're interested in the Web3 space – Metaverse, Blockchain, Crypto and NFTs – this is a great time to get in.
If you're already in the space – keep building. Whatever that looks like for you there's a good chance it will pay off in ways you may not imagine yet.
We're super excited to be in the space – helping companies create strong foundational branding that will help them communicate their mission better and lead them to success.
If any of this intrigues you, or if you still feel confused about the space, reach out to us and let's chat about it! That's what Web3 is all about.